Talking about loss.
Memories, and ice-cream.
Dear beloved,
I could have sworn I wrote you last week. It's amazing how the 5th of this month crept up on me, pheww. I'm here now anyways, and as showing up is half the magic, here I am, the magician.
How have you been? I'll genuinely love you hear from you, so if you can, let's exchange a few emails.
You might have missed my last couple of emails, it keeps landing in 'Promotions'. You might want to change the label, move to primary or add this newsletter to your contacts, so you can always get this right in front of you. Please do that now.
Premium Shalaye
It's 2:26am and raining when I start writing this. I have a draft on accomplishments vs recognition that I was working on and hoping to send to you. If you have my WhatsApp number, there's a probability that you might have seen a bit of my thoughts on the issue on my status. But it's cold right now and I just switched off my fan and snuggled deep under the covers. I see that file yet again and I know what I must write.
Early during this lock-down, I was writing a personal essay on grief and the first part of it focused on the loss of my mum. I wrote it half-way before dumping it but before I did, I shared it with a friend of mine. I knew that essay wasn't ready, and he confirmed it. I do not have the memories of a lot of things from my childhood and rather than insert a new memory in these stop-gaps, I gloss over them, making it facile, and in essence, that essay superficial.
A few weeks ago, after much persuasion - both direct and subtle - my dad gave me her files. You see, there's this thing my dad does where he has everyone's important documents - both original and copies - in respective clear bags. The age and frequency of achievements determine how thick your folder is. If you're lucky like me, you might even get multiple folders. The folder my dad handed to me was thin, and pink. Same colour as my new glasses.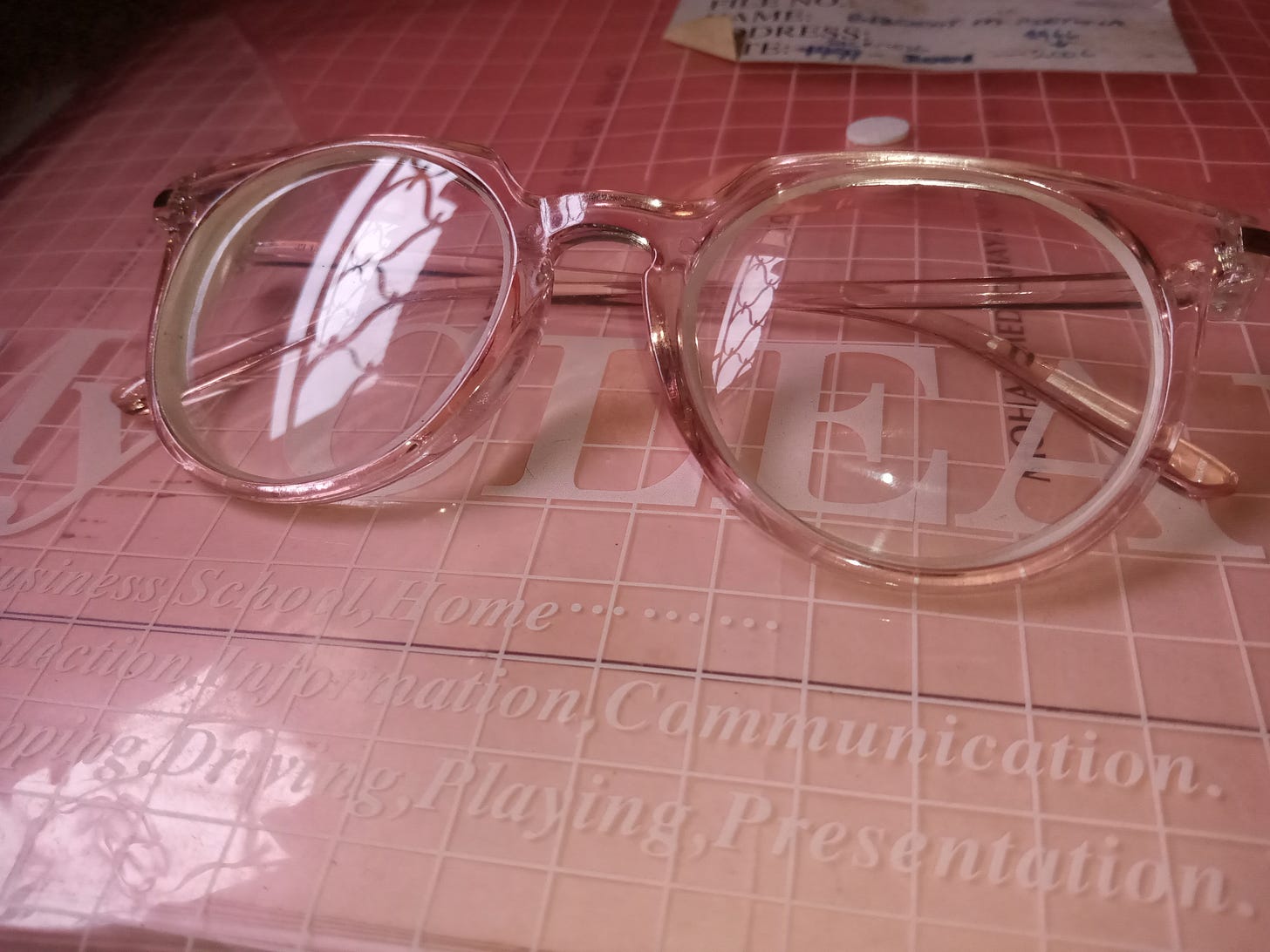 I've flipped through some of the documents in there, saw hospital records and what-nots, and made some new enlightening discoveries, but I've not been able to really go through it. The file - together with my books, journals and planners - lay with me on my queen size bed each night, but I've not gone through it again.
A lot of times, you think you are the warden of your memories, yours alone to curate, but often times, they are given by others - events told to you by family members, pictures, movie scenes, even dreams willed into existence. In this instance, there are memories to unearth in this compact clear bag at my fingertips, yet I am not ready to go through them. Memories are sometimes learned, and now I wonder if certain memories are too painful, too far gone, too foreign to be reclaimed back as one's.
I have only started to be vocal about this loss, about a year ago. My silence for most part was due to the fact that I felt guilty for not having enough memories to grieve the loss, and then guilt at missing my mother when my stepmum is right here, breaking her back and bending over double to be the best she can be. (I've never been comfortable using stepmother in referring to her, never sounds right) The guilt now stems from repressing all the memories so bad I have only a couple. Flipping through the folder unnerved me in ways I didn't expect, and I don't know if I am ready to know.
I'm writing this, beloved, to help me unpack these feelings. I have come to realise that writing to me is a form of discovery - I'll tell you more about that in The Gist - and I hope by doing this, I'll come to terms with everything enough to actually go through the files. The pictures are the hardest to look at.
'do not weigh heavy on her, oh earth/ for she did not weigh heavy on you' chants heavy in my head looking at a few of them.
Anyways, here's a cute picture of me.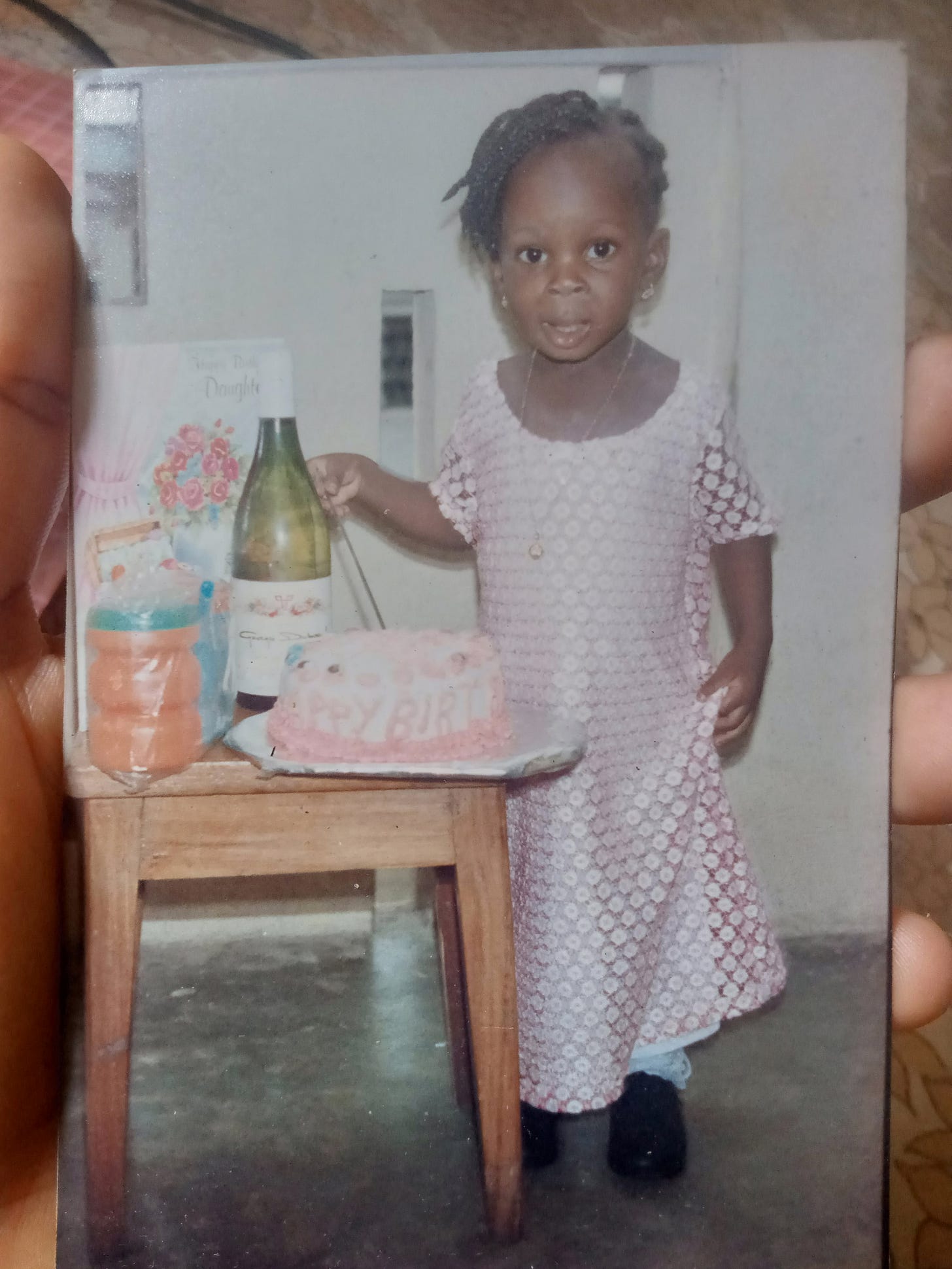 By the way, writers are weird and abnormal. I told this friend that I got hold this treasure trove and he replied that he couldn't wait to read what will come out of me digging into it. I had the same sentiments, but y'all weird af. A normal person would probably say something along the lines of 'I hope you find what you're looking for, or I hope it comforts you' but y'all be tripping.
It's almost 3am now, and Subway by Asa just came up on shuffle & I'm going to bed.
The Gist.
I am getting bolder with my writing, which is a good thing. Writing, to me, is a discovery in and of itself. It's a whole art form I'm still learning about, and in the making of it, I discover things of myself - thought process and beliefs. It's both terrifying and satisfying.
I just finished reading Austin Kleon's Show Your Work, and I'll highly recommend it especially if you are a creative trying to put yourself out there. Started reading The Hairdresser of Harare and I'm enjoying it so far.
Earlier this week, I went out twice to meet with friends. There hasn't been lockdown in my state at all, but I am only starting to get comfortable with going out. I've had my fill of ice-cream, pies and shawarma, and now my current craving is pizza and shakes. I'm too broque to be spending money like this on junks🤦‍♀️. I mean, like my mum will say, there's food at home😂
Anyways, the year is split into two, and we're barreling down the second half now. It is a time of self-reflection, and if you're like me you might have tweaked your goals for the year. Regardless, I'll like to remind you that it is a difficult period right now, and you shouldn't beat yourself up over things not in your control. I know often-times the way we feel is intimately tied to how much work we do, how productive we are, but i'll like you to strike a healthy balance. It is something I still struggle with, too. Allow yourself rest, speak kindly to yourself, and self-soothe as much as you can. A guilty pleasure I have been indulging in is binging on movies and watching natural hair care videos on YouTube (my hair is relaxed). Allow yourself.
Have a look at this😂;
So, tell me how is 2020 is treating you? How you are faring? Give me the deets, I'll love to exchange mails with you.
Till later,
Maryam